BSCR
Blog
Kansas and Missouri Federal Courts Raise the Stakes on Employers' Tip Pooling Practices
05.05.21 | Kansas and Missouri federal courts certify FLSA class actions, challenging the tip sharing arrangements of casinos in Kansas, Missouri, and other locations.

View More Blog Posts
Attorney Spotlight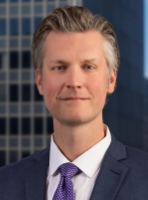 Baker Sterchi is pleased to welcome associates Branden Brooks (St. Louis) and Nicholas Ruble (Kansas City). Branden's practice is focused on the defense of personal injury and premises liability matters. Nick's practice is focused on employment and labor, personal injury, creditor's rights, and commercial disputes.
Service Spotlight
Employment | Baker Sterchi attorneys have extensive experience representing clients in all aspects of employment and labor law. We have successfully defended numerous discrimination and other employment litigation matters and resolved many through successful motions for summary judgment.►
For Important Legal Updates and Resources on the Coronavirus Click Here.