BSCR
Blog
Illinois' Predatory Loan Prevention Act Takes Effect
04.09.21 | The recently-passed Predatory Loan Prevention Act was signed into effect in Illinois last month, and it caps interest rates for consumer loan transactions at 36 percent. The new law was part of a multifaceted economic equity bill signed into effect last month.

View More Blog Posts
Attorney Spotlight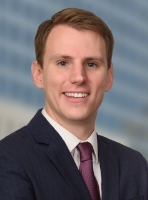 Baker Sterchi is pleased to welcome John Brooks as an associate in St. Louis. John's practice is focused on the defense of personal injury, premises and product liability matters. Prior to joining Baker Sterchi, he represented governmental entities in all stages of litigation in both state and federal court.►
Service Spotlight
Employment | Baker Sterchi attorneys have extensive experience representing clients in all aspects of employment and labor law. We have successfully defended numerous discrimination and other employment litigation matters and resolved many through successful motions for summary judgment.►
For Important Legal Updates and Resources on the Coronavirus Click Here.