BSCR
Blog
Get Woke: Millennials and Age Discrimination
03.04.21 | OMG. Some Millennials are now protected under the ADEA and state age discrimination laws. Learn what this all means for Millennials and employers in the workplace. Unless, of course, you want to be basic.

View More Blog Posts
Attorney Spotlight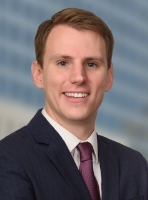 Baker Sterchi is pleased to welcome John Brooks as an associate in St. Louis. John's practice is focused on the defense of personal injury, premises and product liability matters. Prior to joining Baker Sterchi, he represented governmental entities in all stages of litigation in both state and federal court.►
Service Spotlight
Employment | Baker Sterchi attorneys have extensive experience representing clients in all aspects of employment and labor law. We have successfully defended numerous discrimination and other employment litigation matters and resolved many through successful motions for summary judgment.►
For Important Legal Updates and Resources on the Coronavirus Click Here.