Little about 2020 was normal, and the number of trials in the Kansas City area was no exception. Data released by the Greater Kansas City Jury Verdict Service shows that the total number of jury trials in the Kansas City area was down over 65% in 2020 when compared to 2019.
In 2020, 29 trials were reported, compared to 86 trials in 2019, and 104 in 2018. The numbers were significantly impacted by the fact that many Kansas City area courts, especially state courts, had to postpone civil jury trials due to the Coronavirus.


The Percentage of Jury Verdicts Favoring Defendants Remained Constant from 2019
In the Kansas City area, juries decided a total of 29 cases in 2020. Within those 29 cases, the Jury Verdict Service reports on the number of claims in each case which totaled 73 overall claims. Of the verdicts reported on the 73 claims, 41% (30 out of 73 claims) resulted in some amount of recovery to the plaintiff(s), while 59% (43 out of 73 claims) were defense verdicts. Similarly, in 2019 41% (75 out of 181 claims) of claims resulted in some amount of recovery for the plaintiff, while 59% (106 out of 181 claims) were defense verdicts. This put an end to a recent upward trend in defense verdicts, from 51% in 2017, to 52% in 2018, to 59% in 2019.


The Overall Average Monetary Award for Plaintiff Verdicts Drastically Decreased
In 2020, when plaintiffs were awarded damages by juries, the awards were significantly smaller than in recent years. The overall average of plaintiff verdicts in the Kansas City area in 2020 was $502,261, which included two outlier trials resulting in larger verdicts of $4.9 million and $7 million. In 2019 the average Plaintiff verdict was $2,255,380; however, this was due to one outlier verdict of $117,921,154. 2018's average Plaintiff's verdict was $1,810,693; however, there was an outlier verdict that year of $76,000,000.
When the outliers from each year were set aside the average jury award for 2018 was $882,500. 2019's average was $692,000. And 2020's average was $45,000. In 2020, 77% of jury awards were below $100,000, with an average jury award of approximately $45,000. Despite this, the proportion of six-figure jury awards to plaintiffs held steady at about 16% (12 out of 73 claims in 2020, compared to 31 out of 181 claims in 2019, and 29 out of 168 claims in 2018). Nonetheless, the average jury verdict awarded in 2020 decreased sharply from the previous years.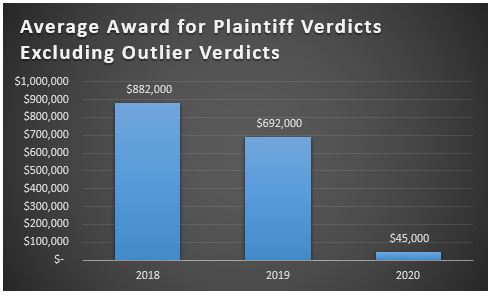 Juries in Missouri Federal Courts Prove Most Generous in 2020
To add to the anomalies of 2020, juries in Federal Courts accounted for all five of the jury verdicts in excess of $1,000,000 in 2020. The U.S. District Court for the Western District was responsible for one of these verdicts, and the other four came out of U.S. District Court for the District of Kansas. In 2019 there were 10 verdicts that exceeded $1 million, 30% of which originated in federal courts. In 2018 there were 14 verdicts over $1 million, 14% of which originated in federal courts.
The number of state court trials fell dramatically in 2020 while the percentage of federal court trials greatly increased. In 2020 state court verdicts accounted for 53% of claims, whereas federal court verdicts accounted for 47% of claims. This was a stark change from 2019 and 2018 where state court claims accounted for 83% of verdicts, and federal court claims accounted for 17% of verdicts in both years.
The likely explanation is that federal courts continued conducting civil trials throughout most of the year, while state courts postponed numerous trials due to the ongoing pandemic. Once state courts begin to conduct civil jury trials again that will likely reverse the current trend, and restore the old adage that federal courts are better for Defendants, and state courts more hospitable toward Plaintiffs.